IoT Solutions and Embedded Systems
IoT – Product Development Utilising Digitalisation
Typically, our customers aim to provide the most advanced products and services in the world. IoT (Internet of Things) is topical for all these companies that want to develop their products to be the best in the world by taking advantage of the opportunities brought by digitalisation. We help our customers here by implementing ideas and needs, where ideas are processed into finished products utilising the digitisation of different stages of the business.
Comatec's comprehensive expertise enables the service from idea to a product.
The expertise and comprehensive services of the entire Group is at your disposal:
Product Development, prototyping and product production of electronic devices
Embedded Software Design
Cloud Services and Backend Applications
User Interfaces and Frontend Applications
Mechanical Design and Housing
EMC and Other Testing Service
Technical Consultation
Certification and Safety Expertise
Effective Business Development with Partnership
Our goal is to act as a customer partner and provide our customers with industry-leading experts and multidisciplinary expertise in IoT design, product development projects and business support. The earlier you choose Comatec as your partner, the greater the benefit we can provide. In addition to technological expertise, you get project management and lifecycle support from us.
Our high quality process helps to turn an idea into a product
Comatec's IoT design projects from an idea to product are implemented in accordance with the Quality System. Our process covers all phases of the project, from identifying the idea to processing the proposal into a prototype and, if necessary, to production. If necessary, you will also receive technical documentation, certification and delivery, as well as lifecycle support through us.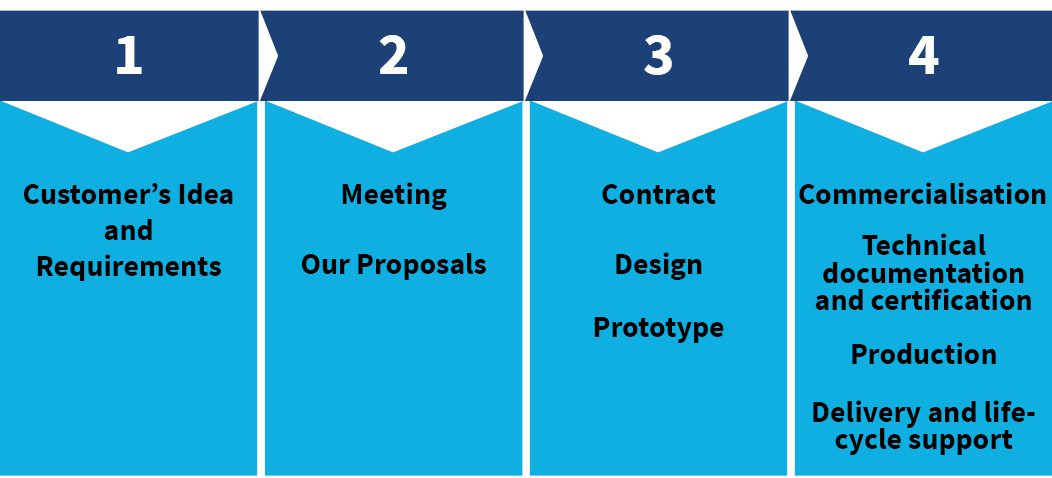 Need for more information? Open the form and ask us