Comatec Automation is a full-service specialist company mainly operating in South-East Finland. The company provides its clients with industrial automation solutions as well as mechanical, electrical and automation engineering services. In addition to local expertise, Comatec's customers have the services of the company's nationwide expert network at their disposal.
Comatec employs almost 50 designers from a range of fields in Imatra and Lappeenranta. Their customers come from a number of industries, ranging from the forest, technology and steel industries to mining and food industries.
"We have been able to forge long-term partnerships with local businesses, allowing us to gain a good understanding of our customers' processes, operating practices and goals. We are agile in small design assignments, but are also able to take on comprehensive plant modernisations and other large projects," says Comatec Automation Oy's CEO Tero Kosonen.
Design for better safety and higher efficiency
Comatec's range of services covers various industrial automation solutions for product line modernisation and mechanical, electrical and automation design for the purpose of production and plant maintenance.
"A typical assignment starts with our customer's need to make the production process more efficient or to modernise their production lines, but these days, safety and environmental matters are becoming increasingly significant motivators as well. We have plenty of local expertise, but in terms of machine safety, for example, we often cooperate with Comatec experts from other cities or countries," says Kosonen.
Trust – basis for long-term partnerships
Business Unit Manager Harri Haavisto is in charge of design work at Comatec in Imatra and Lappeenranta. He too says that Comatec's strength is to get right to work, focusing on the customer, regardless of the size of the assignment or project.
"Our customers value our flexibility and clear practices in completing any project, with a full focus from the making of quotations to completing the documentation. However, the most important thing is the trust we have built – we perform our work at the highest professional level, on schedule and supporting the customer's goals," says Haavisto.
"We have a great track record in lending our customers a helping hand in urgent small projects, and as such we are still a very competitive partner for many of our customers in a range of industries. However, in recent years we have purposefully expanded our expertise in project business, and are at our best in various projects to make production more efficient and improve energy efficiency. Thanks to our network, we can also offer services to partners located in other parts of Finland," he adds.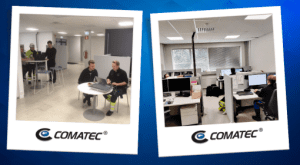 Comatec is flexible about design tools
For Comatec, investing in software expertise has always been a priority. The company uses a range of design tools and the staff are experienced in using them. Flexibility in terms of tools means that Comatec's designs are easy to integrate into the customer's systems. Source data can be obtained from old drawings, for example, or the design area can be made into a point cloud with a 3D scanner.
"Working during the COVID-19 pandemic also showed us that design work really can be done from anywhere. Then again, I do enjoy visiting customers to see and experience for myself how a machine part works or a production line runs. Working face to face with customers is another great aspect of our work," says Haavisto.
Text: Marianne Valta