Comatec's long experience in machinery provides a solid foundation for professional cabin design. We provide tailored services for the development of, for example, cabin user interfaces, air conditioning, mounting, or occupational safety, but we can also offer comprehensive design, taking into account the equipment manufacturer's individual needs.
In challenging cabin design projects, Comatec's strength lies in extensive expertise by the company's staff. Comatec has professionals in vehicle and mechanical engineering, material technology, strength calculations, programming and automation, among other things.
"We put flexibility and special expertise into equipment manufacturers' cabin design, always taking into account product development and the company's business goals. A key part of our work is to create added value for the customer, whether it concerns cabin usability, ergonomics or innovations that increase efficiency, impressive design, or factoring in costs and production issues related to design," says Business Unit Manager Sami-Jussi Hollo from Comatec.
Digitalization increases cabin design requirements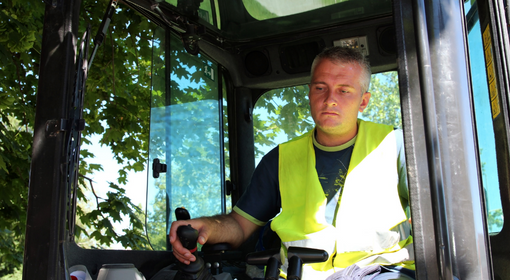 Project engineer and vehicle designer Jukka Ossi, who has been working at Comatec for almost 15 years, has participated in a number of cabin design projects during his career.
"No two assignments have ever been the same! I have designed plenty of mechanical details, such as cabin mountings for the chassis, emergency exits, and mountings for various external components, such as lights and protective metal structures. In recent years, digitalization has revolutionized cabin design and, in fact, these days we work a lot with user interfaces and the positioning of various control devices," he says.
Technological development and tighter safety standards also affect cabin design. Displays and control panels take up quite a large part of the rather limited space available in the cabin, while requirements for safe and more comfortable working conditions increase steadily.
"I feel it is important to develop my expertise all the time and to keep abreast of the latest developments in other design fields, as well. I recently completed my vehicle designer qualifications, and I've been pleased to have received more design assignments related to cabins, too. The work requires a range of skills, but that's exactly what makes it so interesting," Jukka says.
Cabin design is multidisciplinary collaboration
According to the EU Machinery Directive, the cabins of machinery must be designed so that the operator is protected against falling objects, objects that may enter it, and also in case it falls over. This is why cabin structures are pretty standardized, and the main emphasis in design is on various modifications and accessories.
Jouni Virtanen, who works as a mechanical designer at Comatec, gives an example of a project in which machinery that was already in production by the customer was designed to include an explosion-proof safety framework.
"The requirements were quite staggering: the framework around the cabin had to be able to stop a rock the size of about a football moving at a speed of 300 kilometers an hour," explains Jouni.
"The strength of the framework was a challenge in itself, but its mounting proved rather difficult as well, because a safety-tested and safety-approved chassis was not allowed to be tampered with, so the mounting had to be performed using the existing structures of the chassis. Despite the tough requirements, we were successful, and the protective framework met the customer's expectations in terms of both safety and appearance," he says.
As reasons for their success, Jouni highlights their versatile expertise and seamless cooperation both with the customer and within the company.
"My experience in vehicle and mechanical engineering came in useful in the pre-planning stage, and then after getting a clear idea of the customer's needs, having knowledge of the standards, alongside relentless optimization with the Comatec strength calculation experts, led to a successful conclusion," he says.
Text: Marianne Valta