Leng An, test engineer
Test engineer Leng An from Hyvinkää took an interest in technology and natural sciences in upper secondary school. After completing his military service, he worked as a bartender in a business run by his family for a couple of years, until his parents suggested that he should consider technology as a career. In 2004, he was accepted to study electrical engineering at Stadia University of Applied Sciences, where he chose electronics as his major subject and automation as his minor subject.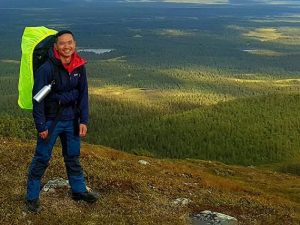 He got his first job during his studies. However, a few years after graduation, he had to prioritise his health for a while. Quitting the job felt bad, and the future seemed uncertain, but Leng decided to take a six-month break from work. He started to look for new training opportunities.
When Leng was browsing job advertisements three months after quitting his job, two ads stood out, one of which had been run by Comatec. Leng decided to apply for both jobs, because their requirements matched his expertise and interests.
He received a call from Comatec soon after submitting his application. The first interview went so well that the supervisor immediately arranged a meeting for Leng with the customer on whose project the engineer to be hired would work. The pieces fell into place, and Leng An signed an employment contract with Comatec in March 2012. He has worked for the same customer since then – only the business unit has changed because of acquisitions made by the customer.
Leng's work as a consulting test engineer is very independent. In his previous job, his tasks were predetermined, but a consultancy such as Comatec requires a more independent approach. Leng An identifies new testing tasks independently, chooses the measuring devices, plans the test schedules and takes care of reporting and collecting feedback.
Leng's initiative is also reflected in his way of informing his supervisor about training opportunities that would support him in his duties. Comatec encourages employees to further develop their professional skills and offers opportunities for additional training provided in-house or by third parties.
In addition to training opportunities, the good working atmosphere and great colleagues have kept Leng with Comatec for more than nine years. He recommends Comatec especially for recently graduated engineers who are not yet certain about their career path.
"At Comatec, you can gain work experience in many fields within the same company. In other words, you don't need to have definite career plans when applying for a job here. You can also develop in accordance with your interests and affect your own work schedule and learning," Leng explains.