Blastman Robotics provides its customers with tailor-made automated blast-cleaning solutions, including a unique Blastman sandblasting robot or an entire surface-treatment product line. Robots help automate tasks, resulting in safer working conditions, faster cycle times and more consistent results.
Blastman identified the need to modernise the transfer car for workpieces to be sandblasted. The new transfer car needed to be cheaper, sturdier and faster to build. Together with the client, Comatec specified the project and designed and implemented it on schedule and within budget.
Starting point and goals
Comatec was responsible for the overall implementation of the project, establishing a schedule, creating a budget and coordinating the work until the product was completed. The whole project started with a single PDF package.
Comatec provided mechanical design for the project, and our designers carried out the strength calculations and documentation related to the project.
The active phase of the project lasted for about 2 months, and the finalisation phase took about a month.
Results and benefits
The client got a transfer car/product better than the previous solution and related manufacturing documentation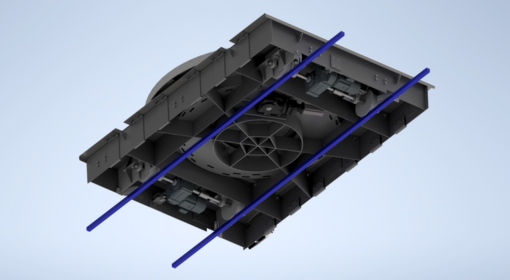 "The collaboration with Comatec ran smoothly. At the beginning of the project, we provided Comatec's designers with initial information that we specified in the course of the design process. After that, we carried out weekly design reviews in which we reviewed and commented Comatec's designs. A few components had to be modified in the middle of the design process, but the changes were also implemented smoothly. No major production issues arose during the manufacturing process, so all in all, Comatec made a good impression during this first collaborative project."" – Teemu Kallio & Leevi Antinmaa, Blastman Robotics Oy