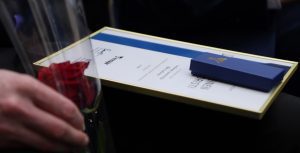 Comatec Group's awards for long-serving employees held on April 1, 2022 at Tampere Hall Comatec's managing director Aulis Asikainen handed bronze plates to employees that had worked for the company for 30 years. The bronze plate was embedded in an oak board, with a picture of the recipient and etched text.
A cross of merit awarded by the federation of Finnish entrepreneurs (Suomen Yrittäjät) was given to employees who either in 2020 or 2021 had been working for the group for 20 or 10 years. Chairman of the board Kari Ollila handed out diplomas for the recipients. The crosses of merit were handed by Harri Jaskari, representing Suomen Yrittäjät.
In his speech, Harri Jaskari applauded the exceptional commitment of the employees in a time when people typically stay in a position only for a few years before moving on.
"Comatec is also an exceptional company in Finland, and we need more growth companies like it. The world situation is challenging, and companies need to consider which way they should be heading next and where their growth prospects may lie. I believe that Comatec can turn these challenges into opportunities," said Harri Jaskari.
Teppo Hiltunen thanked the award recipients, saying how valuable long careers are for both employers and employees.
The first awards were given in 1989, and to date there are more than 200 recipients. This time there were 39 employees that received a cross of merit, 8 for 20 years at the company, and 31 for 10 years.
Congratulations to all the recipients for a significant career and commitment to Comatec Group.