Comatec Group presented its marine electrical and automation engineering expertise at the international Nor-Shipping 2017 trade fair held in Lillestrøm, near Oslo, between 30 May and 2 June. The event has been an established part of the industry for 50 years. Our stand was in Finland Pavilion together with other Finnish companies.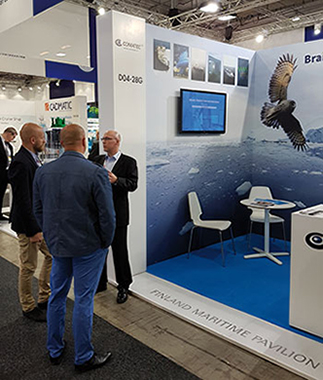 Nor-Shipping is full of action, and it attracts major marine operators from 80 countries all around the world – a total of 30,000 exhibitors and visitors. The presence of leading operators of the marine industry makes Nor-Shipping a valued networking venue. This year's event was the most extensive so far, with exhibitors from 48 countries. As a new feature, the fair had a section for start-ups where projects such as the Hyperloop and clean energy production methods were introduced. At the fair, Arctech Helsinki Shipyard Oy published its letter of intent on building an Ecoship cruise ship (60,000 GT, 2,000 passengers and 750 cabins, hand-over in spring 2020) for the Peace Boat organisation.
The matchmaking event that offered the opportunity to meet many potential customers in rapid succession was a particularly valuable part of the fair for Comatec. Discussions on future projects have continued after the fair with several companies.
Overall, the position of the international marine industry is very interesting. Cruise ship builders have enjoyed order books reaching as far as 2024 or even 2026. The cruise ship market has now room for new operators. In many countries, the opportunity is now being taken by shipyards with no previous experience of building cruise ships. On the other hand, the current price level of raw oil has left plenty of oil and gas industry support vessels with nothing to do in countries such as Norway. As a result, Norwegian shipyards have looked for orders in other sectors, including the fishing industry. The construction of cruise ships and other passenger vessels has also increased in Norway.