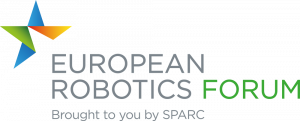 Comatec Group and Microteam Oy are participating in the European Robotics Forum held in Tampere on 13–15 March 2018. At our stand you can see the KUKA LBR iiwa 7 R8100 demo robot running. Microteam is the official KUKA System Partner. We offer our customers the best solution when robotic expertise is needed for challenging client applications. An example of such a challenging application is the implementation of a machine vision in robotic applications.
HRC Human-robot collaboration
Collaboration robots can work alongside humans in a safe way. This means that a robot does not replace a person, but supplements his abilities and makes it easier to perform in difficult tasks. These may include, for example, one-sided work, tasks requiring heavy loads or tasks requiring accuracy. Autonomous robots that are capable of cooperation are used at KUKA's own production plant for assembly workstations.
There are no separate automatic and manual workstations in the future mills, but cooperation between humans and robots takes place optimally without isolation or limiting fences between them.
Come and discuss with our experts in our stand in the Tampere Hall. At the same time you can explore the KUKA demo system. This robot is sentient and does not need protection around it. A man can work beside this robot safely because it knows the proximity of a person and can avoid damaging the person working next to it.
The European Robotics Forum 2018 (ERF2018) will be held in the Tampere Hall on 13─15 March 2018. ERF2018 covers current societal and technical themes related to the field of robotics. Interesting subjects will be discussed, including human-robot-collaboration and how robotics can improve industrial productivity and service sector operations. The conference also showcases the newest research in the field, and the projects funded under EU's Horizon 2020 research programme. ERF is the most influential meeting of the robotics community in Europe.