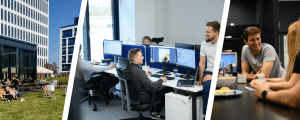 Welcome to meet Comatec Poland, where rock-solid engineering knowledge, innovation and imagination go hand in hand!
In 2009, Comatec Poland began supplying project services and resources in mechanical and electrical design to industrial companies. They partnered with renowned international brands, both in Poland and abroad. In 2016, they joined the Comatec Group, solidifying their position in the engineering industry.
Over the years, Comatec Poland has accumulated vast engineering knowledge, exploring diverse industrial sectors and understanding end user needs. From a small team of four, they have grown into a dedicated and talented force of a hundred professionals.
– We've mastered the art of starting small and gradually expanding our scope as we gain confidence and knowledge, says Elzbieta Helminen, the CEO of Comatec Poland.
– With each passing day, our projects become more diverse and exciting, ranging from modernization and customer adaptation to creating technical documentation and even developing brand-new concepts and products.
The organization is divided into four dynamic teams, each specializing in a different industry.
– We have the "Transportation" team, constructing vehicles that defy gravity on roads and rails, including buses, trucks, and rolling stock. Then we have the "Heavy Vehicles" crew, fashioning mighty machines for construction, mining, and agriculture. Let's not forget the "Industrial Machinery" enthusiasts, who mastermind material handling systems, processing machinery, and production technology. And last but certainly not least, the "Expert Services" team, providing indispensable support in electrics, electronics, and strength calculations.
Located in the city of Wroclaw, Comatec Poland thrives in the heart of one of Poland's biggest and most beautiful urban landscapes. Wroclaw is also a hub of knowledge, with a renowned University of Technology nearby. With this close proximity to a top-ranked education institution, Comatec Poland has a constant stream of brilliant minds ready to contribute their expertise.
But what truly sets Comatec Poland apart is the vibrant atmosphere within their organization. As you're standing in the middle of a workspace, you'll witness silence and deep concentration at the designers' desks, where creative engineering work takes place. As you go further you can hear the lively chatter coming from the social space where around the big table connections are forged and relationships blossom, all fueled by a myriad of sweets. After all, what better way to cherish the camaraderie, celebrate victories and important moments than with a piece of good cake!
– We can truly say we have organization combining engineering prowess with a warm and inclusive environment. Comatec Poland is more than just an organization—it's a family united by passion for engineering brilliance.
This is the second part of a series of articles presenting Comatec's international offices in Estonia, Poland, Romania and Sweden.